Description
Eigenschften:
🔌💡Diese bernsteinfarbenen gelben Blitzlichter sind eine perfekte Ergänzung für jedes Fahrzeug, das gesehen werden muss. Mit dem gelben Scheinwerfer können Sie problemlos erkennen, was sich vor Ihnen (oder hinter Ihnen) befindet. Verwenden Sie diese auf einem Pflugwagen. oder Abschleppwagen erhöht Ihre Sicherheit. Die blinkenden gelben Lichter sind eine großartige Möglichkeit, Ihrem Auto oder LKW Sichtbarkeit zu verleihen.
Ausgestattet mit einem Gehäuse aus Vollaluminium und vertikalen Kühlrippen auf der Rückseite für maximale Wärmeableitung. Das energieeffiziente Design in Kombination mit einem schnell kühlenden Kühlkörper verlängert die Lebensdauer der Bar effektiv über 30.000 Stunden.

Das neue Design der LED-Pods mit Vollreflektorseitenbeleuchtung besteht aus einem Kombinationsstrahl vom Typ 121 Grad (gelber Punktstrahl) und 30 Grad (doppelter Flutstrahl gelb). Doppelseitenschützen könnten für eine hervorragende Abdeckung weit und breit herausragen.

Hochwertiges Entlüftungsventil kann die Lebensdauer des Lichtbalkens effektiv auf über 50.000 Stunden verlängern. Geringer Stromverbrauch als bei herkömmlichen Halogenlampen, Enegry Saving.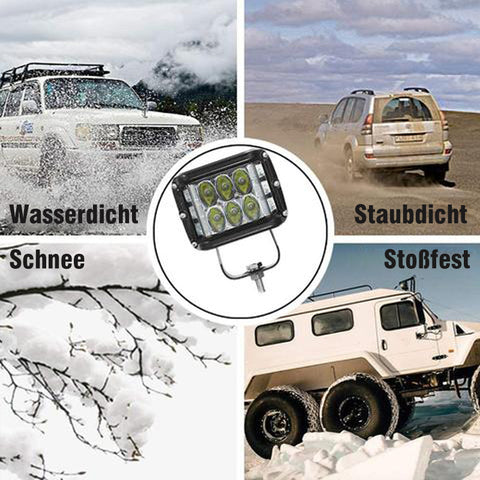 Mit verstellbaren Halterungen kann das Würfellicht auf ca. 45 Grad eingestellt werden, wodurch sich die Richtung des Lichtstrahls leichter ändern lässt. Die Lampe kann deinstalliert werden, indem Sie sie von der Halterung abziehen.

Anwendungen Weitreichende Unterstützung, mit Ausnahme der Beleuchtung von Geländefahrzeugen, kann sie auch für Materialtransport, Beleuchtung von landwirtschaftlichen Maschinen, Marine-LED-Beleuchtung und Notfall- und Rettungs-LED-Leuchten angewendet werden. Wie zum Beispiel: ATV, SUV, LKW, Zug, Motorrad, Bus, technische Fahrzeuge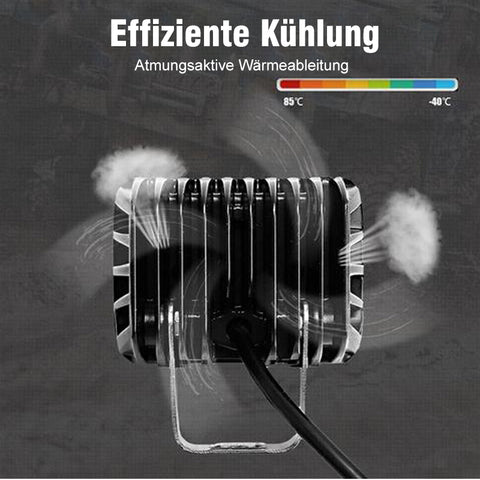 Spezifikationen:

36 W gelbe LED in einem 30-Grad-Punktmuster
Lichtstrom: 1 W 140LM ​​30W * 140LM ​​= 4200 LM für jeden Pod
Bernstein kann vom Vollton- zum Strobe-Effekt geändert werden
Bernstein und Gelb werden getrennt gesteuert
Gebraucht oder Notfall. Abschleppen . Rennen . oder einfach nur gesehen werden
Das Ein- und Ausschalten wechselt vom Blitz zu festen Mustern
3,75 "breit x 2,95" hoch x 3 "tief
12-24v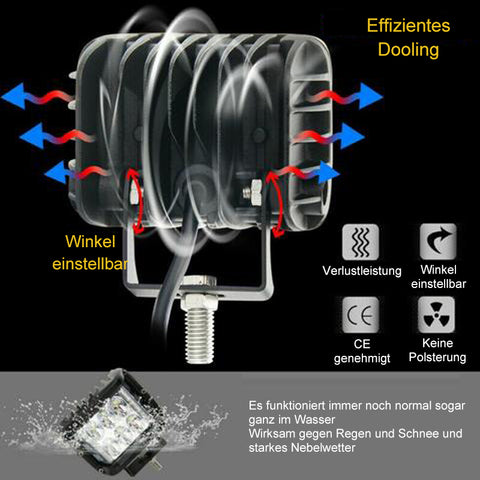 Paket beinhaltet:

1×Seitenschützer zweifarbiger Blitz Cree Schoten
Payment & Security
Your payment information is processed securely. We do not store credit card details nor have access to your credit card information.